Članak objavljen:
18.05.2014
PRIVATIZATION OF INTERNET SPACE
Author: Goran Cvijetic - *nbgteam
I followed the news regarding floods in Serbia mainly through the reporting of the largest media on the Internet. The most visited domestic internet portals (B92, BLIC and others) reported regularly and of course the floods in Serbia were the main news. I thought about how much importance the world's largest media gave to the events in Serbia, considering that this was a large catastrophe. BBC, CNN, GUARDIAN etc.… NOTHING! ALMOST NO NEWS HAD BEEN PUBLISHED! Their main topics were war-inciting topics as well as topics for distraction, sports mostly.

When I read the news that Novak Djokovic noticed the same and had sent criticism and appeal after the semifinal victory, I decided to write this article, as I had been thinking for months on the topic "The future of online business - Internet privatization".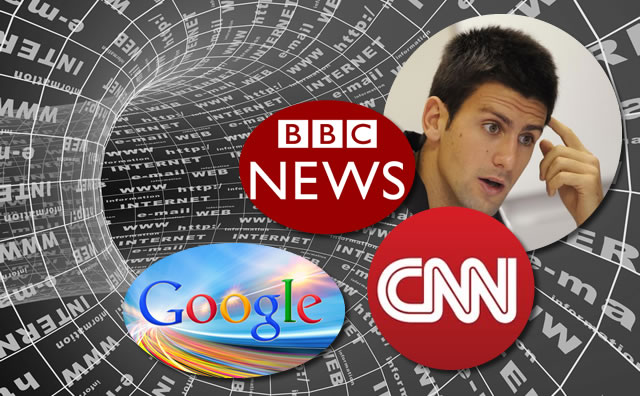 The following text does not refer exclusively to the future of online sales (add product to cart), but to online presence and advertising in general. Because online business does not only mean owning an online store, but also any internet presentation or advertisement on other sites, through which potential customers can find and contact you.
Internet privatization – The darkest predictions

Maybe some of you will read the following text in disbelief and think on it as a conspiracy theory. However, the facts are as follows...

To cut a long story short about the history of Internet search and the contest of search engines, I will just say that Google is not the first or the only search engine, but depending on the country, about 80% of Internet users use it for searches.

I recently heard a joke from my colleague: - "Where is the best place to hide a dead person? - On a third page of Google. "
Large internet portals are increasingly taking up space on Google searches. It's very simple. They have big budgets, they develop a direct visit through other channels (at the end of each show or news, on any television, the host says: "More about it on our internet portal…"). Teams work on SEO optimization. Finally, which is most important for the progress of the site, they emit a large number of texts on a daily basis.

Large online stores (Amazon, Ebay ...) are, in fact, online shopping malls where you can open your store (through the API, it is even possible to connect your own online store with them, which allows you, through single administration in your own store, to choose which products and in which online shopping malls to appear). Great, but how many stores and products are currently offered on Amazon and what is the priority? Of course, quality and price will always be a priority. But here we come to the main problem, which is actually transferred from traditional business to internet sales – the big ones eat the small ones. Big companies always have a better price, and because of the advanced technology you can't even match their quality.

Google, Yahoo, Facebook, Wordpress, Magento and many others offer different software, ways and possibilities to start your online store. Many even offer it for free. But over time, you will realize how much it actually costs. Yes, today you can create an online store on your own and for free (if we don't count the time invested). But again, we return to the above-mentioned problems of online promotion, because if no one comes to that online store and no one buys anything, then you have wasted your time.

Traditional competitiveness problems also apply on the Internet. It will cost the farmer to make and pack his products on his own much more than a producer who does it in bulk. In case the farmer has a better and healthier organic product, he will still encounter the problem of developing a sales network. When we talk about high-tech products then that gap is even bigger. It can be said that small business has nothing to look for here, except to sell innovation to a large corporation. The Internet customer is more spoiled because of the simple reason - greater search options are offered to him (you can change your action on the Internet in a second) and the price and quality of service become even more important.

The war on the Internet has begun. You've heard for sure about the China vs. Google war for attempts to pass legal restrictions on the Internet in the US Senate. You have heard that the U.S. government has requested access to the Google database. You have heard of various street protests aimed at preventing internet restrictions around the world, from Iceland to our close neighbors Slovenia and Croatia. No, it is not politics if we know that the interests of big corporations are behind everything.

One of the darkest scenarios says that, in addition to total control, internet would be free for approximately 200 of the largest websites in the near future, and you would have to pay access to all other sites.
Explanation: The goal of any business is profit. In order to make a profit you have to be competitive. The end result of the fight against competition is a monopoly.

Is Google becoming an Internet monopolist and will it remain independent and fair, as they are saying? Our people say "where there is smoke, there is fire", and that "every man has his own price". Pressure on Google has already begun, which their representatives have publicly acknowledged. Considering that in today's consumer society, everything has its price; Google has it too. Knowing that large corporations do not hesitate to sacrifice millions of people through state and military apparatus, does anyone else really think that it would be difficult and impossible to take over a controlling stake of Google?

There is of course a problem of public opinion. However, the public has been deceived and manipulated so many times, that large corporations already have the experience and knowledge to solve that problem.

Conclusion: The dark scenario of monopolization and privatization of the Internet is simply in the character of capitalism; whether the darkest scenario will happen or it will be different after all, as an individual or a small company you cannot significantly influence it.

Not to be misinterpreted, I urge you not to remain silent observers. As Novak Djokovic did, use every opportunity and support every righteous action. In the context of online business, things on the Internet are changing fast and the survival and future of this kind of business is in monitoring and adapting.
Struggle for space on the Internet
Let's ignore the dark predictions, but the internet is definitely changing on its own. In fact, by the nature of business, it monopolizes. Internet presence and advertising is becoming more expensive. I remember the time when on Google and other searches, with little effort, it was easy to bring a site to the first pages for certain keywords and when the competition was negligible.

Today, just as in the traditional business where late entry into the market means more investment, so on the Internet, it means less and less space.

If we're talking exclusively about searches, it's very clear - for a particular keyword on the first page Google only has room for 10 organic searches, plus paid ads. To clarify the term "keyword in searches", considering that when we offer internet marketing services some of the clients still answer that they don't need them, that they will do SEO optimization themselves or that they are already on the first pages. And then they go and type URL or name of their company to prove their claim. A keyword or phrase is the word that internet users SEARCH MOST when they are interested in your service or product. Some words may be more sought after than others. The biggest competition is for the most searched words or phrases. Everyone would like their site to appear on the first page of Google when they type a word that hundreds of thousands of people search for every month.

The struggle for less sought-after keywords and phrases is also great today. Thus, when you add up the number of searches for less searched keywords, not only is it possible to talk about a serious potential market, but bringing a visitor through a keyword phrase (example phrase: creating an online shoe store) can be an almost certain conversion. Of course, for the conversion of a visitor into a client or a customer, it is necessary to fulfill all the preconditions… That the visitor was brought exactly to the content he expected and asked for; that the site is functional and representative in order to instill the trust of the visitors; and finally, that your service suits him with price and quality.

There are various SEO optimization techniques that are applied to get the site's pages to the first pages of searches, such as paid advertising. Let me explain. Paying for an ad per click does not necessarily mean that you will automatically be on the first page, because it depends on the activities of the competition. In that sense, if you pay €0.05 per click and there is a lot of competition that will pay more then you will have to bid per click. It happens that big players bid over €20 per click and take losses only to respond to the competition attacks.

A similar struggle for space is happening on social networks. Facebook is no longer what it used to be. It is no longer a classic social network. Creating and promoting business pages (fan page), as well as paid advertising has turned Facebook into a commercial media. The same thing is happening or will happen with other social networks, online shopping malls and internet portals. Everything is eventually commercialized.
The future is still in your hands
Many businesses and companies have long been present on the Internet and attach increasing importance to the online business development. Individuals and marketing managers are increasingly educated and the importance of internet marketing is becoming clearer to them.

Last week, I was in a meeting with a potential client. It turned out that the new potential client was actually a client who approached us two years ago. Then, our services were expensive for him and the client decided to hire freelancers to reduce start-up costs. However, it turned out that the services he received were not of high quality and he had to change contractors. In the end the whole job cost him more, and the support was slow and unprofessional. All these losses are negligible compared to the losses of potential purchases for the past two years. Also, the loss of taking positions in Google searches is great. Now, after two years, a much larger investment awaits him in order to break into important positions, because the competition has increased. The only real gain for the client for all that lost time is education. I noticed that the client became more familiar with technical terms and that price is no longer a decisive measure for him, but the result - the ratio of invested amount and profit potential.

In those two years, the client still managed to reach a turnover of about 1 million RSD per month, through sales in the online store. Now, he has opted for online business development and has set a goal for our team to increase sales to 5 million as well as to improve the visual identity.

The mentioned story is not our only experience. In fact, we have encountered such approach and outcomes many times in this business. It is incomprehensible that people, when it comes to starting their own business or developing it, look to save exactly where they lose, even though they primarily use the Internet for search. It's easy to open a physical store - location, location, location in the right place! And of course all the other costs of arranging and opening the store. However, when it comes to internet outlets, people simply ignore that fact. But it's very simple. THE INTERNET SHOP must also be in a busy place. And if you don't know how to do it or you just don't want to do it, then you entrust that job to professionals or agencies. Who will you entrust with the installation of ceramic tiles in the bar - a tile installer or a guy who'll do it for almost free to learn the job?
Hiring experts


World trends in business development, especially if we are talking about conducting business online, are avoiding employment, but hiring proven experts or agencies to perform temporary or permanent jobs. This trend was confirmed to me by my associates and acquaintances who live and work in Western Europe and America. It is more cost effective for the company to hire an external associate for professional work. There are several reasons for this approach. In the first place, it is the quality of service; but also one of the reasons for avoiding employment is the price. The worker or workers cost the company much more, because there are contributions, sick leave and vacations. Finally, it is easier to replace an external associate or agency than a worker, who should first be fired, and then train and accept a new one.
Light at the end of the tunnel

The Internet as a means of advertising and sales is today number one, for certain. It provides great opportunities, but the competition is growing and the costs of entering and surviving in the Internet market are increasing. Today when we talk about the internet then we are actually more or less talking about Google.

Forget the aforementioned dark predictions of the Internet's future. Today, we have an honest Google that has decided to localize searches (heuristics of Google robots that visit sites and, according to the content, adapt the search to the local business); that does not like unfair play (various spam and mass marketing automated techniques) and which allows you to develop according to your investments. Of course, Google is also a company that strives for profit and is developing in the direction of becoming a monopoly, if it is not already. However, as long as it's a fair game, as long as it's not bought by large corporations and as long as they do not change its heuristics or limit it, Google is the best tool and channel for online business development.

Don't worry about the end of the world or the end of the internet. They will surely happen when favorable opportunities are created. And finally, let me not fail to praise Novak Djokovic once again. Congratulations. You always find ways to pleasantly surprise us all. You are a great human being and the best Serbian brand and promoter of this country.